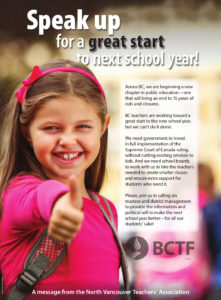 We need government to invest in full implementation of the Supreme Court of Canada ruling, without cutting existing services to kids. And we need our school board to work with us to hire the teachers needed to create smaller classes and ensure extra support for students who need it.
This ad in the North Shore News concerns the lack of funding being provided to school districts for the full implementation of our restored language. Despite claims by the current government, the restored language has not been fully funded. Consequently, the proposed staffing for 2017-18 includes cuts to services in areas such as counseling, Speech and Language Pathologists, and Hearing Resource teachers.
We invite you all to the Board meeting next week. Spread the word: We are hoping to have a full house at the Board Meeting this coming Tuesday, June 20 at 7:00 pm at the ESC, fifth floor. There will be several presentations at the start of the meeting.  Our restored language should be improving learning conditions and should not be cutting existing services to students. We hope to see many of you there!